My Blog
Posts for tag: pediatric dentistry
By Water's Edge Dentistry
May 03, 2018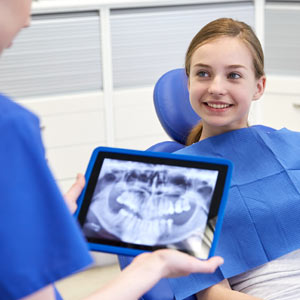 Your child's dental care wouldn't be the same without x-ray imaging. It's one of our best tools for finding and treating tooth decay.
But since x-rays emit radiation, is your child in any danger when they're exposed?
X-rays, an invisible form of electromagnetic energy, will form images on exposed film after passing through the body. Because it takes longer for x-rays to pass through dense tissue like teeth and bones, the corresponding areas appear lighter on the film than less dense tissue like the gums. We can detect decay because the diseased tooth structure is less dense and thus appears darker against healthier tooth structure.
The downside of x-rays, though, is the radiation they emit could potentially alter cell structure and increase the risk of future cancer, especially with children. That's why we follow a principle known as ALARA when using x-ray imaging. ALARA is an acronym for "as low as reasonably achievable," meaning the doses for an x-ray session will be as low as possible while still gaining the most benefit.
Advances in technology, particularly the development of digital processing, has helped reduce the amount of radiation exposure. We're also careful with what types of x-rays we use. The most common type is the bitewing, a device with the film attached to a long piece of plastic that the child holds in their mouth while biting down.
Depending on the number of our patient's teeth, we can usually get a comprehensive view with two to four bitewings.  A typical bitewing session exposes them to less radiation than what they're receiving from natural environmental background sources each day.
Keeping the exposure as low and as less frequent as possible greatly reduces health risks while still getting the full benefit of early decay detection. Still, if you have concerns about your child's x-ray exposure, we'll be happy to discuss our approach and all the precautions we take using x-ray imaging.
If you would like more information on x-ray diagnostics and your child, please contact us or schedule an appointment for a consultation. You can also learn more about this topic by reading the Dear Doctor magazine article "X-Ray Safety for Children."
By Water's Edge Dentistry
February 04, 2018
February marks National Children's Dental Health Month. It's important for children to form daily oral hygiene habits early, but how do you get little ones to take care of their teeth? Try these tips:
Describe your actions. When children are too young to brush on their own, gently brush their teeth for them, narrating as you go so they learn what toothbrushing entails. For example, "Brush, brush, brush, but not too hard," or "Smile big. Let's get the front teeth. Now let's get the teeth in the very back."
Make learning fun. Around age 3, children can start learning to brush their own teeth. To model proper technique, play follow the leader as you and your child brush teeth side by side, making sure to get all tooth surfaces. Then you both can swish and spit. After brushing together, brush your child's teeth again to make sure hard-to-reach surfaces are clean. Note that children generally need help brushing until at least age 6.
Encourage ownership and pride. Children feel more invested in their oral health when they get to pick out their own supplies, such as a toothbrush with their favorite character and toothpaste in a kid-friendly flavor. To boost pride in a job well done, reward your child with a sticker or star after they brush their teeth.
Keep your child brushing for two minutes. According to the American Dental Association, toothbrushing should be a two-minute task. To pass the time, play a favorite song or download a tooth-brushing app designed to keep kids brushing the recommended two minutes. For increased motivation, electric toothbrushes for children often have a built-in two-minute timer as well as appealing characters, lights and sounds.
And don't forget one more key to a lifetime of good oral health—regular dental visits. If you have questions about your child's dental hygiene or if it's time to schedule a dental visit, please contact our office. To learn more, read the Dear Doctor magazine articles "Dentistry & Oral Health for Children" and "Top 10 Oral Health Tips for Children."